Multilingual IVR: Keep in touch with Switzerland worldwide through its new IVR system vocalized by Acapela voices.
The Swiss Federal Department of Foreign Affairs (FDFA) has recently deployed a new IVR (Interactive Voice Response) system vocalized by Acapela voices to provide an advanced user experience and improved services in its 170 representations worldwide.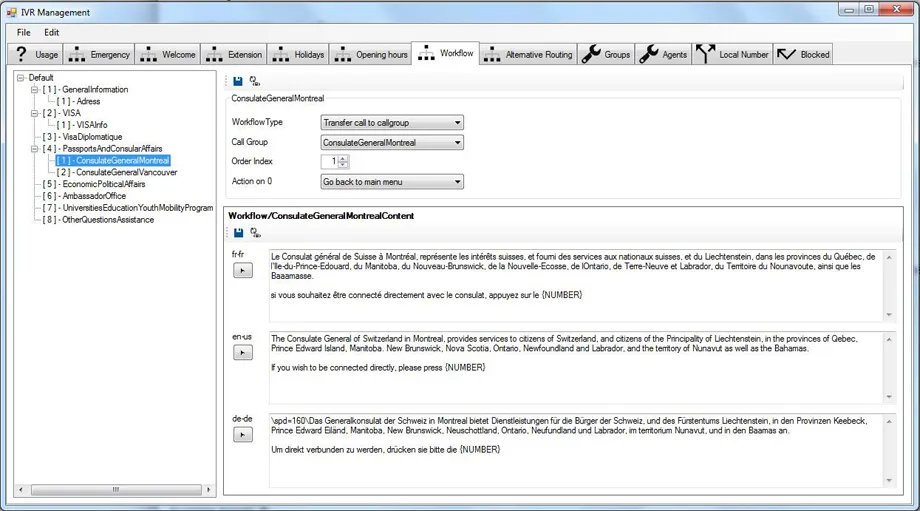 The FDFA, which coordinates Swiss foreign policy on behalf of the Federal Council, has selected Acapela Group to provide the voices in many different languages which vocalize the IVR.
With more than 170 representations around the world, the FDFA safeguards diplomatic interests, provides consular services and plays an active role in international cooperation.
The representations abroad include embassies, consulates, cooperation offices and permanent missions to international organizations. The FDFA decided to provide all the representations with a consistent, flexible and customizable IVR solution. The challenge was to develop a unique and easy to use interface. The service originally relied on multiple analogue and digital architectures, each representation depending on a single system. The FDFA IVR delivers a global yet personalized approach resulting in a consistent, efficient, customer service, wherever the location and whatever the size of the representation.
The helpline/hotline is essential to maintaining the information flow and the IVR system is a vital element, ensuring the delivery of consistent messages and timely news and advice anywhere in the world.
Using Acapela's on-demand cloud solution, every FDFA team can easily generate its own vocal messages and make changes instantaneously, in any of the 34 languages available from Acapela Group, so enhancing the caller experience and customer service efficiency with pleasant, homogeneous and accurate audio content. Because each site is self-reliant personal and relevant information can be relayed in a timely and cost-effective manner. Messages to be delivered are typed in through an easy interface, in one of the 34 languages. The operator can listen to the result with a click and then fine tune the text until names, words and acronyms are pronounced properly and an optimal result is achieved.
The voice part is handled by Acapela VaaS solution, an online, straight talking service, which is cost effective and very easy to use, employing synthesized speech to give any content a natural voice.
Whenever your application needs to talk, connect to our VaaS server, send the text and let itdo the talking. VaaS is a webservice which can be used from any environment able to deal with HTTP protocol such as java, .net, ASP, JSP, PHP, python etc. More information can be found here