Online straight-talking solution
The online service is used daily by our customers to give a voice to creatives, speech empower viral marketing campaigns, voice-enrich real estate video ads, give a voice to online translation tools, vocalize real time information for public address systems and any other application or service that needs to speak!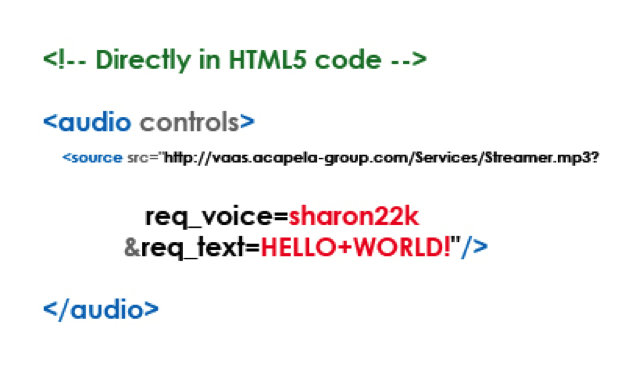 Online service
With Acapela VaaS, speech empowering an application is this simple: connect to Acapela VaaS server, send the text and let VaaS do the talking!
An Appropriate connector gives life to the application. 25 languages and up to 50 voices are available, 24/7 to make the cloud talk.
Key benefits
#2
Integration
Easy integration with a few lines of code.

#3
Voice control
Voice generation control.
#4
Evaluation account
Free evaluation account.
Simple API and customizable voice parameters
Whether you use Flash, or any other language that can communicate over http, our API lets you access all the possibilities of Voice as a Service. You will be able to integrate speech easily into your application and control every aspect of the voice generation process using various features, parameters, settings and effects.
To make your app talk, connect to our VaaS server, send the text and let VaaS do the talking. 25 languages and up to 50 voices at your disposal, 24/7.
Free evaluation account
Sign up for a free evaluation account. You will get full access to the service for 30 days and around 100 messages per day. All features, languages and voices are accessible.
Subscription options
Yearly or Peak Subscription plans are available depending on your needs. Our cloud has already handled millions of transactions and is ready to speak volumes.
Pricing
VaaS pricing is based on the time of connection to the service during which we deliver sound to you, either by converting your text file into a sound file that your users listen to, or by playing an already existing file that your users are accessing. This time-based consumption is counted in VaaS Units (VU). A VaaS Unit corresponds to 20 seconds of listening to a sound file.
Example: you are creating a viral marketing campaign where users generate an e-card with their own text to be sent to their friends. In general, users type short messages of 75 characters. The average duration of a 75 character message when it is transformed into a text to speech message is approximately 5 seconds. Converted into VUs this means that 4 messages correspond to one VU, or to put it another way, if you purchase 1 VU your users will be able to generate or access 4 messages of 75 characters.
There are two payment options:
Peak Plan: based on pre-payment for a specified quantity of VUs that can be used during a specific timeframe. The price for peak plan starts at 1500 euros.
Yearly Plan: based on a more regular use of a given number of VUs per month and includes a commitment to use VaaS for one year. The price starts at 1800 euros.
For more information please register for free on Acapela VaaS