Genuine Bilingual American Spanish-English Children's Text to Speech Voices
Acapela Group & AssistiveWare are proud to unveil the first ever genuine, natural-sounding bilingual American Spanish-English children's Text to Speech voices . Meet Valeria & Emilio.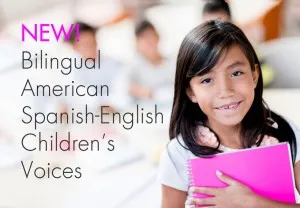 According to the US Census Bureau, there are over 50 million Hispanics in the United States. This includes over 8.5 million children between 5 and 17 years old that speak Spanish at home. About 80% of these children are bilingual, speaking Spanish at home and English at school.
The new bilingual children's voices are designed for Spanish and English speaking children in Latin America and the USA, including the estimated 110 to 130 thousand bilingual Spanish-English children in the United States who cannot rely on their natural speech to meet their daily communication needs.  For the first time, not only will they be able to speak with a Text to Speech voice that matches there age  but also use the exact same voice when speaking Spanish and English. The new Spanish-English children voices, Emilio and Valeria, were recorded by and for children.
"There is a huge demand for genuine children's Text to Speech voices," founder and CEO of AssistiveWare, David Niemeijer said, "This is exemplified by the fact that the American English Children's voices released by Acapela Group and AssistiveWare in June 2012 have already been downloaded 28 thousand times."
"This groundbreaking project is the first of its kind in the industry," said Lars-Erik Larsson, CEO of Acapela Group. "With over 3,000 hours of research, recording, processing and development, the new American Spanish-English children's voices are a fulfilling milestone and a reflection of our longtime leadership in this field."
Co-developed by Acapela Group, AssistiveWare, and Tobii Technology, these bilingual voices are now available in AssistiveWare's Proloquo4Text 1.1 text-based communication iOS app that gives a voice to people who cannot speak, AssistiveWare's Pictello 2.1 visual story-telling iOS app, and in Infovox iVox 4 for Mac. With Infovox iVox, these new voices can be used with any Mac app that supports Text to Speech.
The new bilingual children's voices are such an important breakthrough for Spanish speaking children across the Americas that AssistiveWare and Tobii Technology are not keeping these voices reserved for their own products. After July 2014, the new bilingual American Spanish-English children voices will be available for licensing by Acapela Group to other developers to utilize in their apps and communication devices, allowing even more children to access programs with voices that resemble their own.
The collaboration between Acapela Group and AssistiveWare dates back to 2003 when AssistiveWare was the first company to build a Mac product using the natural-sounding Acapela voices. Both companies share a strong dedication to the assistive technology market and were natural partners to tackle the challenges of developing children's voices designed for people who cannot speak. Acapela Group brought decades of experience in building natural-sounding Text to Speech voices. AssistiveWare brought its experience in working with people with speech impairments through its BETT 2011 award-winning Proloquo2Go Augmentative and Alternative Communication app for iPhone, iPod touch and iPad, which later this year will also be adapted for Spanish. Tobii Technology joined the collaboration for the creation of German children's voices released in 2013 and the American Spanish children's voices released today.
Listen
Children voices: Genuine Bilingual American Spanish-English
About AssistiveWare
Founded in 2000, AssistiveWare has established itself as the worldwide leader in innovative assistive technology software for iOS and Mac OS X. AssistiveWare works in close collaboration with end users and professionals to offer a portfolio of award-winning solutions for individuals with physical, vision, communication, and reading impairments. In 2002, AssistiveWare was the first company to deliver universal access to Mac OS X with the KeyStrokes on-screen keyboard. Always innovating, AssistiveWare was also the first company to release a full-featured Augmentative and Alternative Communication solution for iPad, iPhone and iPod touch – the award-winning app, Proloquo2Go. Recently AssistiveWare released Proloquo4Text, a text-based communication app for iOS.
About Acapela Group
Acapela Group invents speech solutions that bring content to life through giving it a voice in up to 30 languages. More than 100 resounding synthetic, yet natural sounding voices as well as new, authentic American and British children's voices are ready to vocalize written content into a pleasant audio result. Acapela Group's repertoire includes producing a wide-ranging library of voices including voices that have: accents or specific dialect attributes, singing or storytelling ability, different moods and emphasis, voices for all ages and all languages and recognizable characters or celebrities. Each audio selection is authentic sounding, unique and original, presenting a distinct personality that perfectly matches different contexts. More than just simple vocalization of texts, Acapela Group aims to add a subtle layer of intelligence and significantly enrich audio dimension by offering more meaning and intent to each voice.