Voice-First interface for Education: High Quality voices from Acapela Group on Chromebooks.
Acapela Group Publishes Extension in the Chrome Web Store, Bringing Over 100 voices in 30 languages for Chromebooks high quality voice capabilities to students around the world.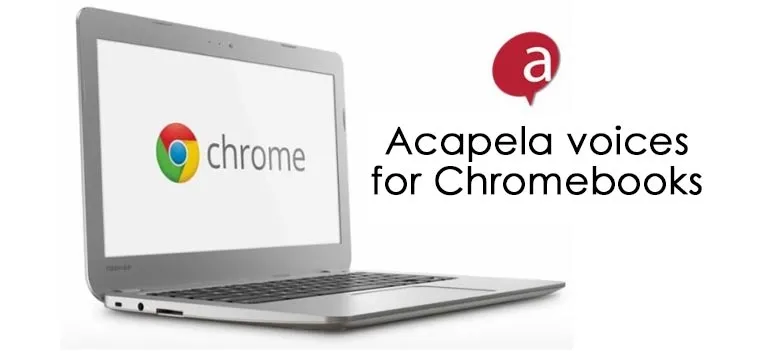 Chromebooks encourage collaborative and innovative learning focused on web-based applications. The combination of high performance, ease of use, security, and access to an extensive library of apps in the Chrome Web Store makes these devices powerful tools that puts the learning in the student's hands. Acapela Group has collaborated with Google to now add a wide portfolio of High Quality voices – including Acapela's very popular children voices.
Since their launch 7 years ago, Chromebooks are increasingly being adopted in schools to boost learning capabilities. As the text-to-speech voice interface is reinventing the way we all engage with devices, Acapela voices are helping to broaden the native voice offering on Chromebooks with another 30 languages and over 100 voices. The Acapela portfolio for Chromebooks includes authentic children voices as well as adult ones so that students can choose according to their age group and preferences, to feel fully comfortable with the voice they learn with.
Engage with High quality voices in 30 languages
Talking apps are contributing to change the way language, information and words can be learnt and understood. Acapela voices permit students to create an engaging and comfortable interactive environment, even more with touch screen devices, thus enhancing their learning abilities.
Text-to-speech specifically helps individuals that read slowly or with difficulty, people who want feedback when writing or help with spotting errors when proof-reading, those who suffer visual stress when reading text on paper or on a screen or want to simultaneously see and hear. Immediate audio feedback improves word recognition, increases the ability to pay attention and remember information and helps students to recognize and fix errors in their own writing. The wide range of languages covered opens up language learning opportunities.
'Our company has been present for decades in the Education & Accessibility markets, supporting users in their everyday environments. Our expertise, the ongoing ground-breaking innovations in the voice area based on deep learning and our capability to create voices for everyone put us in an optimal position to create original, dynamic solutions for all end users of all ages, from kids to seniors and answer to all Chromebooks users. We look forward to the community feedback', says Nicolas Mazars, Acapela Inclusive Business Unit Manager.
Acapela's unique children voice portfolio gives pupils the opportunity to hear their work read back to them in a friendly, age-appropriate voice that they can identify with. This realistic speech feedback encourages them to actively review and self-correct their work.
Test the voices on Acapela's interactive demo
List of languages covered
Arabic, Catalan, Czech, Danish, Dutch(Belgium), Dutch(NL), English(Australia), English(India), English(Scotland), English(UK), English(US), Faroese, Finnish, French, French(Canada), German, Greek, Italian, Norwegian, Polish, Portuguese, Portuguese (Brazil), Russian, Spanish, Spanish (North America), Swedish, Swedish(Gothenburg), Swedish(Scania), Swedish (Finland), Turkish.
Acapela TTS Voices for Chromebooks range from $7.99 to $9.99 depending on the voices.
Link to the Chrome Web Store
Key facts
100 voices/30 languages
Available to any app running on a Chromebook
Available on Chrome Web Store
From 7.99 to 9.99 USD
High Quality voices
Genuine children voices
About Acapela Group
Voice First is reinventing the way we engage with devices. Acapela creates personalized voices to guide end users throughout this new experience. The expertise, in-house technologies and latest works on the subject of deep learning and artificial intelligence puts the company in an excellent position to accompany its customers by rapidly creating voices adapted to the context of utilisation.
Acapela's vocal solutions speech empower all services or devices that need to speak. The company offers a large portfolio of standard voices and create custom voices, for the exclusive use of a company or a brand. Because voice matters.