Technoleads announces choice of Acapela Group for elokutio™ digital audio description services
Technoleads Services, Inc., an innovative media services provider, announces their agreement with Acapela Group. This milestone positions Technoleads to move forward the commercialisation of elokutio™ digital audio description service in English and French.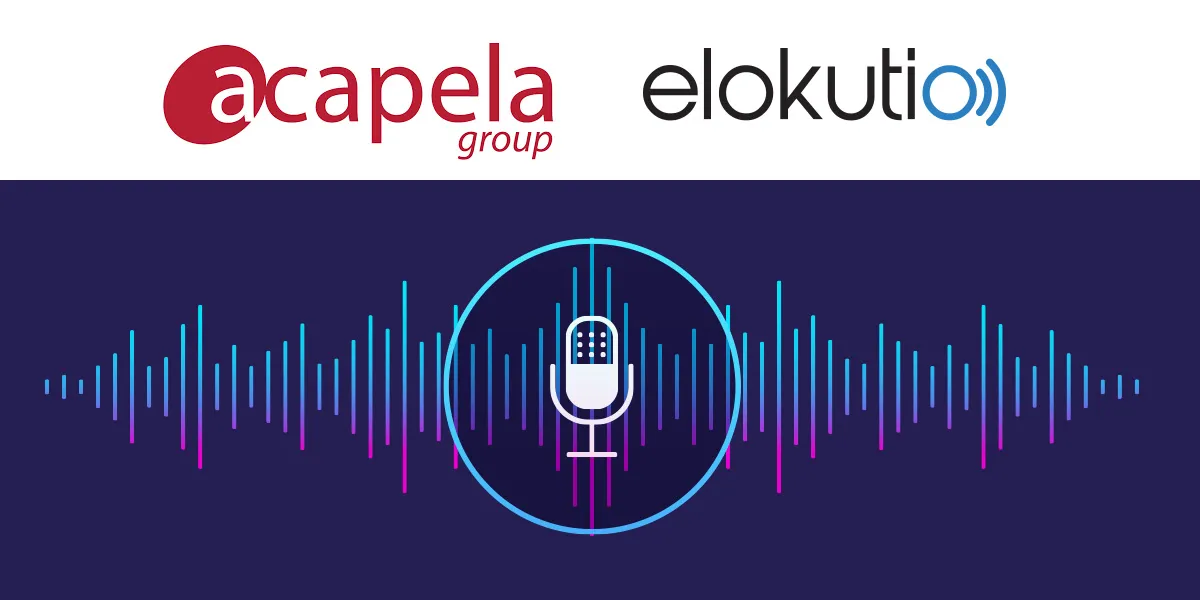 Also known as videodescription, audio description (AD) is a form of narration that describes key visual elements that aides the blind and visually impaired in enjoying multimedia content including film, documentaries and television series. In June 2018, Technoleads introduced elokutio™, a next-generation AD service.
Compared to traditional AD production, elokutio takes advantage of the latest technology to achieve quality, speed, and savings like never before.
To start with, elokutio's AD scripts are written using a platform developed by a leading applied research institute, leveraging sophisticated and proven algorithms. This AD production software provides a template and editing tools that let the writers focus on the creative aspect of their work. Using these scripts, Technoleads produces audio tracks thanks to either optimized voice recording or leading-edge digital voices.
Fast and affordable, elokutio™|digital AD tracks, featuring Acapela voices, are prepared in minutes rather than days while maintaining the highest quality standards. Technoleads clients, including major broadcasters and production studios, can now choose the elokutio AD service that best fits their schedule and budget.
"Acapela's digital voices allow us to ensure a quick turnaround of high-quality audio description," says Stéphane É. Brisebois, President of Technoleads. "In choosing Acapela, with their catalogue of 30 languages, we ensure that we have the resources to expand internationally," he adds.
"We're very happy about this collaboration with Technoleads, with whom we share a commitment to the visually impaired community. At Acapela Group we strive to give a voice to everyone, whatever their disability, to help them live better through technology. Audio description is a fertile ground for digital voices," stresses Nicolas Mazars, Business Unit Manager of Acapela Inclusive, a division dedicated to accessibility.
Audio description is a promising market segment. In Canada, the CRTC1 has imposed AD targets for major broadcasters. These came into force last September and will grow annually for five years. This year the European Union passed inclusion policies2 which will have a similar effect in the near future. Over-the-Top streaming services have also put in place digital inclusion initiatives.
As a more efficient and affordable AD service, elokutio™|digital helps democratize audio-visual material by making it more accessible to people with visual impairments.
About Technoleads Services, Inc.
Technoleads is a Canadian company established in 2005. Today they offer services that facilitate the media production chain. They apply leading technology to innovate and stand out in the market.
About Acapela Group
Acapela is the European leader of voice solutions with thirty years of expertise and market feedback, strong partnerships, deep rooted R&D, an enthusiastic team and a strong appetite for innovation. Your voice matters. And Acapela cares about it. The company aims to create voices that sound different: custom voices, children's voices, voice banking with my-own-voice. Voices adapted to the needs and context of application, based on promising results on Acapela DNN. Acapela invents voice solutions to inform, navigate, provide access to information, enable communication, to express thoughts and desires, participate in social conversation, preserve personal voice identity, and much more.
Information
Notes & references :
Canadian Radio-television and Telecommunications Commission
Directive (EU) 2019/882 of the European Parliament and of the Council of 17 April 2019 on the accessibility requirements for products and services