Synthesized Speech Enhances Serious Games: Serious Factory Uses Acapela Voices In Pioneering Training Solution
Serious games convey knowledge and know-how to learners, in an engaging and user friendly way. They can be adapted to any requirement and are deployed in all application fields: healthcare, education, sustainable development, science…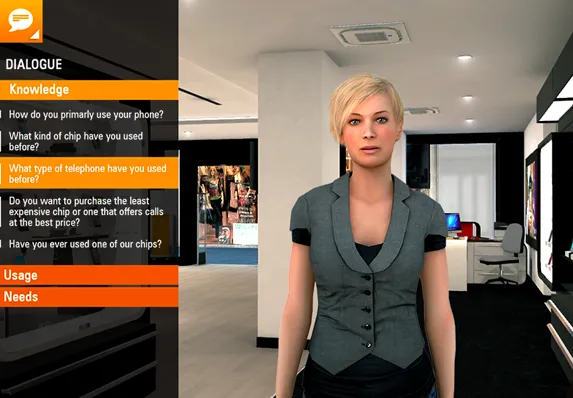 At the crossroads of video gaming and e-learning techniques, serious games use video games' advanced technologies – real time 3D, simulated environment, conversation – to raise awareness, expand knowledge, communicate, inform and even boost mental and physical capabilities.
Speech synthesis elevates this learning experience. The trainee benefits from lively and stimulating interactive situations. The serious game editor has a choice of many languages and can easily customize the scenario. The wide range of voices enables the creation of many different contexts, information and emotions are perfectly conveyed via a very pleasing audio result.
This is why Serious Factory has integrated Acapela speech synthesis into its Virtual Training Suite™, the first immersive simulator of behavioral training that completes traditional training courses and extends the learning process.
Serious Factory creates serious games and training simulators that are based on role play, to help learners become quickly and durably operational.
With both a 3D real time graphic environment and contextual vocal information, the learner evolves in a virtual environment very similar to his or her own professional daily routine.
The trainee benefits from numerous educational/informative inputs, complementary to traditional learning:
 Easy control of the interface for enhanced involvement and engagement,
Immediate and regular practice to more easily assimilate knowledge,
Improved interaction thanks to personalization and immediate audio feedback via speech synthesis.
Development of interpersonal skills thanks to the conversational engine that makes the avatars smarter.
'Acapela technology, embedded into our software Virtual Training Suite™, contributes to our 'agile' production process: we can produce in a very short time multilingual versions of our training programs, answering to very tight calendar constraints. The wide range of voices provided by Acapela, combined with the full palette of available emotions, enables us to offer our customers very realistic dialogs, for a very engaging immersion. The technology is essential for our users who have great flexibility in the writing and modification of their scenarios' says Pierre Susset, Director of Production at Serious Factory.
'Serious gaming is a very interesting domain, providing the end user with a fully vocal interaction. It combines e-learning, where we are already very active and present, and gaming, in which our voices are increasingly integrated. We are also involved in research projects such as Emospeech, which aims to enhance the expressiveness of voices, specifically in the context of serious games.' comments Lars-Erik Larsson, CEO of Acapela Group. 'Being selected by players such as Serious Factory to give a voice to their virtual simulator is for us a very positive sign that our solutions, as well as the expressive qualities of our voices, are fully answering the requirements of this expanding market, which is always looking for innovative concepts and ways forward.'
Virtual Training Suite™ uses Acapela Group's cloud solution, www.acapela-vaas, that allows the online, real time, generation of voice files. Acapela VaaS subscribes to the SaaS (software as a service) approach and enables users to:
Master budgets and reduce costs,
Work with a high level of reactivity,
Access VaaS 24/7, with the full benefit of latest technology improvements.
About Acapela Group
– Website
We invent speech solutions to vocalize your content with authentic and original voices that express meaning and intent. Over 100 synthetic voices in 34 languages are ready to give a voice to any content producing a natural and pleasant audio result, by turning written input into speech. We create the voice your company needs. Just for you.  This is Acapela bespoke expertise. Let's talk!
About Serious Factory
– Website
Acclaimed by leading industry players (Dassault Aviation, EDF, Janssen, Renault, Richemont, SNCF, Total, Vinci Concessions, etc.) Serious Factory is a developer of immersive sales support and training simulators for businesses enhancing their customer relations.