Free Talking widget: free talking widget
Put a bad guy on your blog or give it a Royal British tone!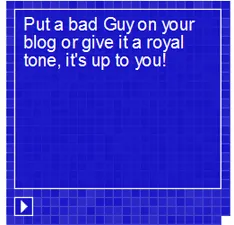 Our popular talking widget now offers all the voices of our repertoire (including country, hiphop, child or expressive voices,…). Get Yours!
All you have to do is to select your favorite voice (may be the most tricky part of the game!), then adjust the color, resize -or not- the widget and don't forget to add your personal welcome message. Copy/paste the few lines of codes on your website to get your own talkative spot on your pages. That's it. your blog now speaks. Tell us which voice is your favorite one.
Use it either to support you in your language learning with some words or phrases, to animate your blog, to read simple messages that you would like to hear rather than read… It's up to you to make it speak the way you like with you favourite voice!
Acapela Talking widget uses Acapela VaaS solution which allows to turn any written text  into speech, in real time. Full interactive demo on our website.