'Hey Coyote!': Coyote and Acapela help you drive.
Digital voices from Acapela give the say to Coyote's vocal assistant.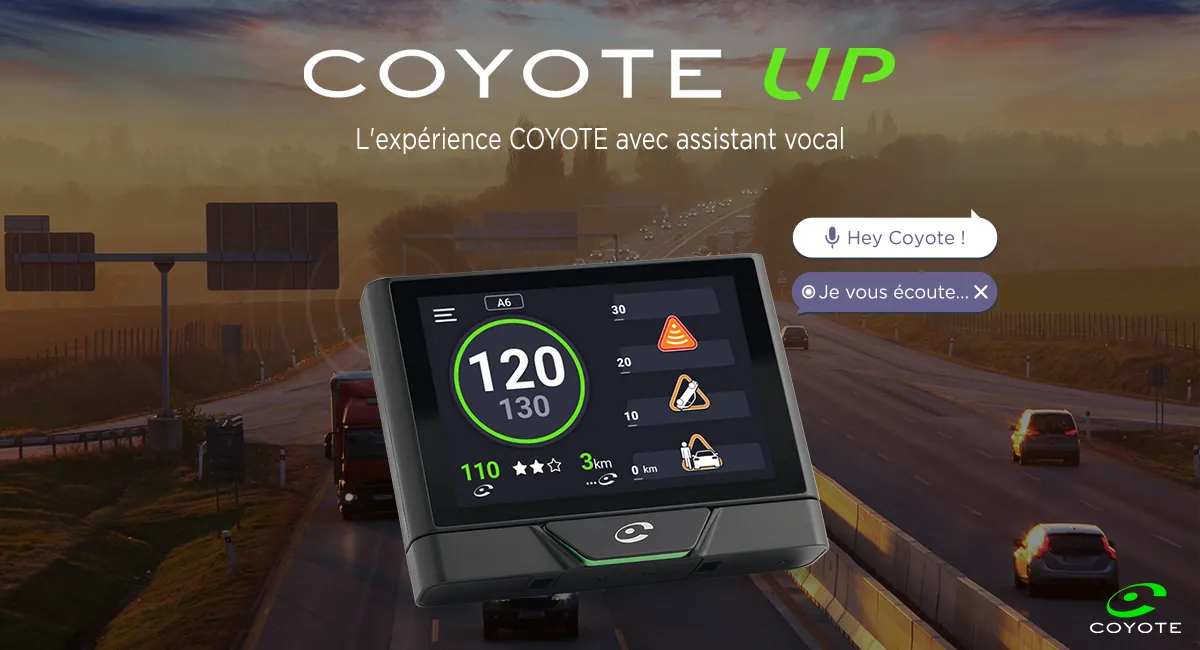 Brussels Motor Show, Belgium, January 9th, 2020.
Coyote, the European Leader specialized in driving assistance, is launching its vocal assistant in French (French and Belgium versions) and Dutch (Dutch and Belgium versions) with Acapela voices, to optimize guidance towards the community and strengthen the Coyote's experience.
Coyote, which relies on a very active community of 5 million users in Europe – using the device for an average of 125 minute per day- combines once again the community and technology to better serve users and to move forward with innovation on driver safety enhancement.
With the launch of its own vocal assistant, Coyote enables drivers to declare and confirm alerts with the voice, while keeping their eyes on the road and their hands on the wheel, through a simple wake word: 'Hey Coyote!'.
Acapela's digital voices were specifically designed to set up a smooth and natural conversation with the end user.
For the last several years, Coyote and Acapela Group have worked closely together to enhance the audio quality of messages vocalized through the device. It informs the driver on traffic conditions, alerts or security messages and can now set up a conversation trough the Coyote vocal assistant.
Acapela Group also works with Coyote on further European deployments with the Catalan, English, German, Italian, Polish, Portuguese and Spanish voices.
"To guarantee the quality of the interface and the safety of end users, it is essential to adapt our digital voices and to personalize them, according to the context. This is exactly what we achieved, over the years and will continue to move in this direction with Coyote's team. We are very proud to accompany them on this topic and to give the say to their vocal assistant which aims to combine technology and community to make the road safer" says Rémy Cadic, CEO of Acapela Group.
"Voice is now the natural answer for many interfaces. It is even more applicable for drivers and Coyote's end users who have widely demanded this new function. Our vocal assistant was designed to inform and stay informed while keeping focused on the road. It was important for Coyote to deliver messages with highly natural and intelligible voices, that are pleasant and stress-free. Since the October launch in France, we have received a lot of positive feedback from the community on the Acapela's digital voice acceptance", adds Vincent Hebert, General Manager at Coyote System Benelux.
The vocal assistant and the Acapela voices are deployed on Coyote Up and Coyote Nav +.
Beyond the voice capability, the new 'Coyote UP' device embeds the best of Coyote technology. The screen displays the speed limit, complications on the way, etc. Coyote offers a service without advertising so as not to disturb the driver's attention. Personal data is anonymous and is not used for commercial purposes.
About Coyote
Founded in 2005, Coyote is the European leader of real time community-based driving information systems and offers over 30 different types of road safety alerts.
The company developed a patented technology available though connected devices, applications and embedded systems (Renault and Toyota). All of Coyote' solutions are based on geo-localized shared information. Drivers can alert others in real time about traffic conditions and hazards. 5 million users communicate daily on subjects such as speed limits, danger zones, traffic jams, etc. To ensure the reliability of its service, Coyote analyses an average12 million/month data reporting from the community.    Beginning in 2018, COYOTE started offering new services, following their acquisition of Stuggler : COYOTE SECURE (recovery of stolen vehicles) and COYOTE Business (dedicated to professionals, fully flexible, including recovery of stolen vehicles, fleet management and an alert system on the roads with COYOTE's devices).
Coyote System has a revenue of 130 million euros and offers a service that covers 23 European countries. The company has won several awards since its creation: the Frost & Sullivan Telematics award in 2008, the Trophy of the Decade in 2015 and the Blue Ocean Awards in 2016, and was awarded the "Customer Service of the Year 2019" in its category "Driving assistance solution". www.moncoyote.com
About Acapela Group
How does you voice sound? At Acapela Group, we create personalized digital voices that match your voice branding. Our voices, based on Neural TTS and AI, bring persona to the user experience.
Acapela is the European leader of voice solutions with thirty years of expertise and market feedback, strong partnerships, deep rooted R&D, an enthusiastic team and a strong appetite for innovation.  Your voice matters. And Acapela cares about it.  The company aims to create voices that sound different: custom voices, children voices, voice banking with my-own-voice. Voices adapted to the needs and context of application, based on promising results on Neural TTS. https://www.acapela-group.com/