Voice first: Acapela Group & SoundHound partnership pave the way for smart voice-enabled AI.
Leading independent conversational AI platform adds 100 voices across 32 languages.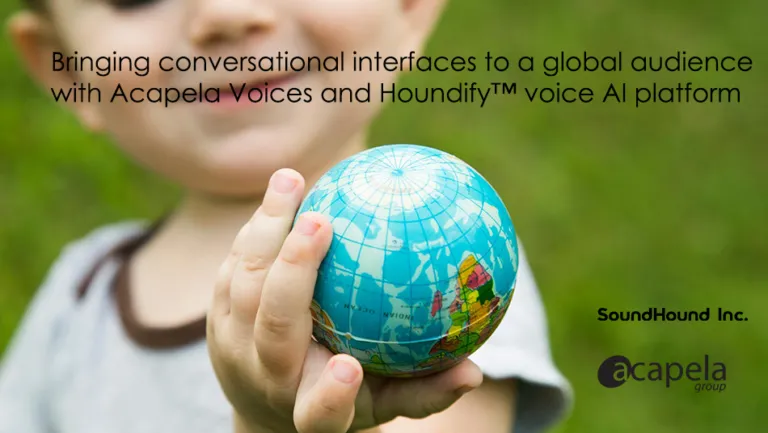 SoundHound Inc.®, the leading innovator in voice-enabled AI and conversational intelligence technologies, today expanded the multi-language text-to-speech (TTS) offerings for its Houndify™ voice AI platform through a partnership with Acapela Group, the leading provider of voice and speech solutions. Starting today, Houndify will now provide access to more than 100 different voices across 32 languages, making it one of the most comprehensive TTS platforms in the world.
Bring voice interface to your products with unique AI platform and pleasant personalized voices!
The partnership brings together the capabilities of Acapela voices and Houndify's voice AI technology providing companies, developers and brands that are seeking to bring voice assistants and voice interfaces to their products and services, the choice of selecting unique sounding voices that are 'off-the-shelf' as well as the option to develop customized, branded voices that perfectly fit to the context and the person of the brand or company.
Acapela voices perfectly works with the full suite of Houndify's voice AI technology, including Speech-to-Meaning™ and Deep-Meaning-Understanding™, which delivers unprecedented speed and accuracy in voice recognition and responses, and understands context, such as the user's location or previous queries, to support natural interactions.
"By partnering with Acapela Group, we are able to enhance Houndify's text-to-speech language offerings, and bring conversational interfaces to a global audience," said James Hom, co-founder and Vice President of SoundHound Inc. "This further solidifies Houndify's position as the most comprehensive voice AI platform and reinforces our vision of Collective AI, where anyone can easily make their APIs and services available on the Houndify platform."
"Voice first interfaces are reinventing the way we engage with devices. And We are excited to work with SoundHound Inc. to jointly move ahead the voice-first technology disruption that is soundly changing the way we interact with content." said Remy Cadic, VP Sales of Acapela Group. "Our latest progresses in deep learning and AI are opening exciting and promising opportunities for voice creation and we look forward to hearing our voices working on the Houndify platform around the world."
Developers interested in exploring the Houndify platform can visit Houndify.com to learn more and register. The Hound voice search and assistant app is available as a free iOS or Android app, and can be downloaded via SoundHound.com/Hound.
Check out this video about Houndify
About SoundHound Inc.:
SoundHound Inc. turns sound into understanding and actionable meaning. We believe in enabling humans to interact with the things around them in the same way we interact with each other: by speaking naturally to mobile phones, cars, TVs, music speakers, and every other part of the emerging 'connected' world. Our consumer product, Hound, leverages our Speech-to-Meaning™ and Deep Meaning Understanding™ technologies to create a groundbreaking smartphone experience, and is the first product to build on the Houndify platform. Our SoundHound product applies our technology to music, enabling people to discover, explore, and share the music around them, and even find the name of that song stuck in their heads by singing or humming. Through the Houndify platform, we aim to bring voice-enabled AI to everyone and enable others to build on top of it. We call this Collective AI. Our Mission: Houndify everything.
About Acapela Group:
Acapela Group, leading player in voice solutions for more than 30 years, is constantly creating new voices to better interact with users, thanks to voices that adapt to the context. Voices that convey meaning, intent and emotions. Acapela Text-to-speech solutions give the say to tiny toys, robots, autonomous vehicles, smartphones, IoT and much more. Acapela creates personalized voices that read, inform, explain, present, guide, educate, tell stories, help to communicate, alarm, notify, entertain. From standard high-quality voices to domain-based applications and custom voices, Acapela's skills cover the full chain of voice needs in 34 languages. Our latest innovations in deep learning and AI opens up new exciting possibilities for voice creation.