Ticket vending machines Accessible to All: deployment of Quickomat self-service machines with Acapela voices.
Vending machines to get your ticket for services or travels are now Accessible to visually impaired too.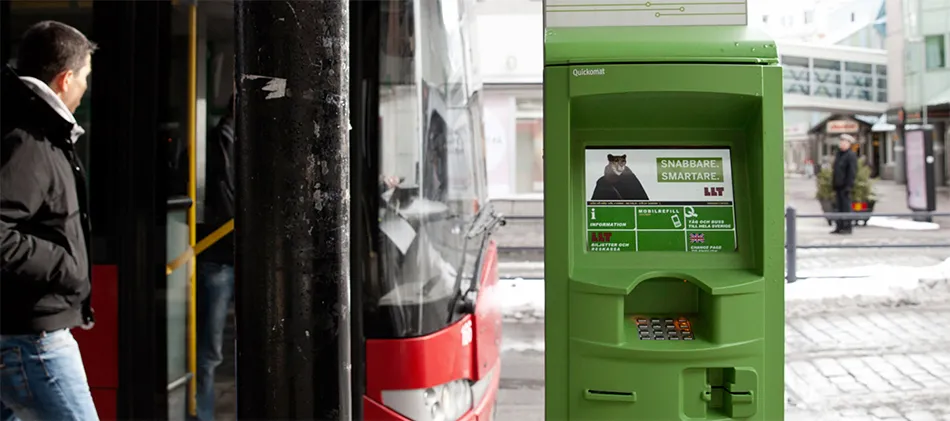 Quickomat, a Swedish company dedicated to self-service vending machines, has developed a ticket automation solution fully adapted to visually impaired people which is operational in Norway since the beginning of 2017. The vending machines are the first of their kind to make ticket purchases through unmanned vending machines available and easy to use for everyone. Acapela voices provide end users with talking interface, providing with a pleasant audio input the information usually displayed on the machine screen.
Visually impaired can now use the machines by their own, from information request up to ticket purchase.
Talking interfaces and language choices in combination with zoom and screen adjustments, speaker and head-set functionality enable self-handling.
The development has been made in collaboration with Kolumbus AS, the administration in charge of public transport in the Rogaland – Norway, as part of their goal of public transport actor to be inclusive and accessible to all using Universal Design. Universal Design is based on a forthcoming EU directive where accessibility and user-friendliness should be pursued to provide the same conditions for everyone and create socially sustainable development. The development with an optimized visually impaired automation system has also been carried out in cooperation with experts in Norway and Sweden.
"Accessibility to All is today mandatory to allow everyone to travel autonomously. And ticket machines are part of the experience. We therefore look forward to offering the new customized automation to more traffic manufacturers, so they can offer a simpler and safer trip for everyone. "Jan Melin, CEO Quickomat AB.
'Acapela Group is deeply involved in both Public Transport and Accessibility domains. Our voices accompany travellers and commuters in their travels daily, helping them all to get the right information at the right moment. The whole experience includes the ticket machines and we are very pleased to give the voice the Quickomat new ticket vending machines' says Susanne Magnusson, Sales Manager at Acapela Group.
The new vending machines have been in operation since February 2017 and have met a lot of positive reactions. The next step is the implementation of raising and lowering ticket stations to complete accessibility customization and make travel easier even for short and wheelchair-bound. This feature is scheduled for mid 2017.
More information about Quickomat