Speech market: new Acapela Group German entity will offer clients tailor-made solutions and local expertise.
Acapela Group opens a new entity in Germany, based in Frankfurt, under the name TD Acapela Group Germany GmbH. It will complement Acapela's long-standing presence in the DACH region, where the company is active since many years.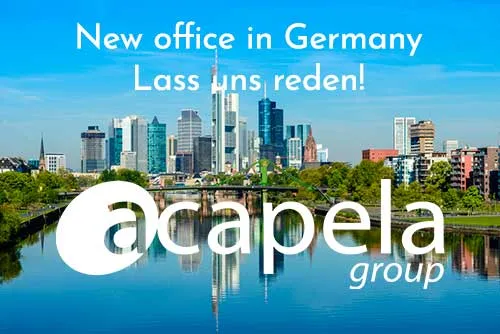 Acapela  has a particularly strong track record in public transport, with major references such as Deutsche Bahn, BVG or Wiener Linien, but will support customers in all segments in Germany, as in all of its regions.
The new structure will further expand Acapela's local expertise in German speaking countries and improve the company's ability to help customers more effectively through client-centricity and high responsiveness in the local market. Thanks to this strong proximity, TD Acapela Group Germany will be able to offer tailor-made services that fit German clients' needs.
"Accompanying our customers throughout the full voice process is a major goal at Acapela. Each speech project is specific and needs to be globally understood within its domain. Acapela Group has an active and growing customer base in Germany for many years. With this new entity, we aim to better understand and deliver personalized and custom digital voices while increasing the awareness and deployment of our voice solutions" says Remy Cadic, CEO of Acapela Group.
The Acapela's team in Germany, headed by Jan Rümmer, Market Owner Transport, is fully operational, currently deploying new custom voices for major references, and recruiting.
TD Acapela Group Germany GmbH
TD Acapela Group Germany GmbH
Grempstraße 27
60487 Frankfurt am Main