'my-own-voice' available for people with communication disabilities using Predictable app
Award winning technology company Therapy Box today announces its collaboration with Acapela Group, in releasing the latest version of augmentative communication app Predictable to be compatible with Acapela's my-own-voice service.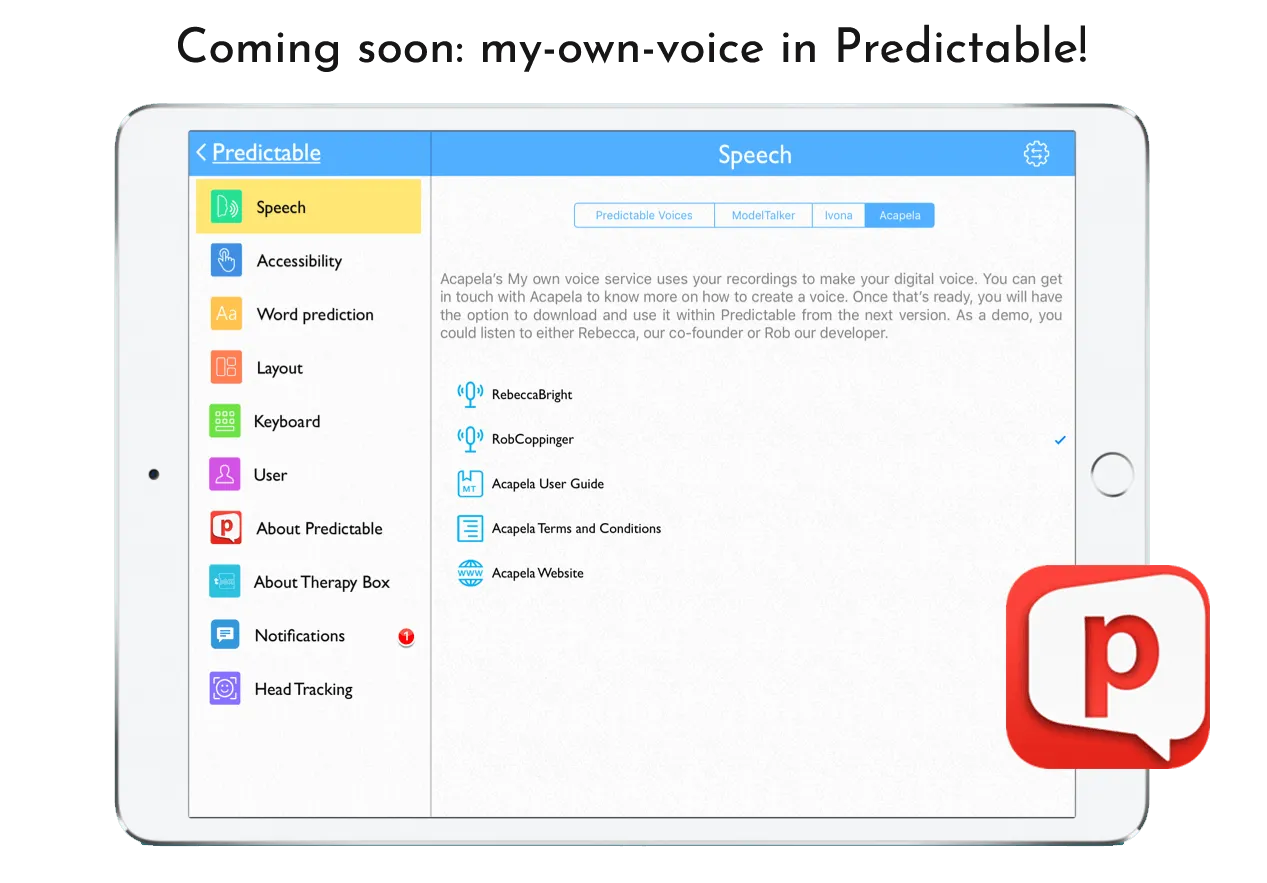 Therapy Box's Predictable app is used in 10 languages around the world by people with significant communication disabilities arising from conditions such as motor neuron disease/ALS, stroke, cerebral palsy and autism. Since being launched in 2011 the app has received numerous accolades recognizing its innovative inclusive design.
This new implementation of the Acapela my-own-voice enables people in many of the regions using Predictable, to bank their voice with Acapela and use it directly in Predictable. For individuals diagnosed with speech or language disorders – resulting from ALS or other conditions such as aphasia, dysarthria or apraxia – capturing the essence of their voice before losing it is a crucial step in preserving their identity.
The collaboration between Acapela and Therapy Box brings together the key components for people wanting to bank their voices and use it within a mobile app. The teams have worked together closely to enable this streamlined process.
"Launched 4 years ago, my-own-voice is more frequently being adopted by people living with ALS. The product is gaining in visibility and number of users is growing very fast. Recent innovations based on machine learning with Acapela DNN allow users to create their own voice very easily, even if their voice is damaged and low energy levels make recording difficult", says Nicolas Mazars, head of the Inclusive Business Unit at Acapela Group, "The key issue for individuals is to record as soon as possible after ALS diagnosis. The partnership with Therapy Box is essential to Acapela to keep on its way to provide a voice for everyone, working closely with AAC experts and setting up a full efficient and smart eco system for the end users. We look forward to develop our joint actions with Therapy Box based on their high-end Predictable product and provide an efficient solution to end users."
"This innovation offers voice banking for people speaking English (with variants to address patients from US, UK and Australian accent), French (France and Canada), Spanish (North America and Spain),  Dutch (The Netherlands and Belgium), Swedish, Norwegian, and German, who use Predictable.  "We are incredibly pleased that we can offer the opportunity for people to bank their voices and use it in Predictable," Rebecca Bright MBE from Therapy Box shares, "This will meet the needs of non-English speaking customers of Predictable, which makes things equitable and truly inclusive".
Therapy Box will release the compatible version in April 2019. Predictable on AppStore
About Therapy Box
The multi award winning technology company is at the forefront of bring innovation to accessible and inclusive products for people with disabilities. Its flagship app Predictable is available in 10 languages and assists countless people with significant disabilities to communicate their basic needs and have meaningful conversation. Founded by Rebecca Bright MBE and Swapnil Gadgil the company has won numerous accolades including the Queens Award for Enterprise: Innovation and the 2018 Virgin Media VOOM Award.
About Acapela Group
Acapela Group is a European leader of voice solutions with 30 years of expertise and market feedback, strong partnerships, deep rooted R&D, an enthusiastic team and a strong appetite for innovation. In order to meet a growing demand for specific voice solutions adapted to accessibility markets, Acapela Group created a division dedicated to inclusiveness with an initial specific focus on speech impairments, learning disabilities, visual impairments and for meeting the specific needs of seniors. Acapela Inclusive aims to provide everyone, whatever their disability or impairment, with a voice, to help them live more independently through easy access to technology.  https://www.acapela-group.com/