Infovox4: All-in-one local & portable Talking companion for visually impaired users
New version!

Innovative yet simple and all-in-one product for seamless access to written information, no matter where the user is, at home, in the office or on the move using different computers. Infovox4 uses Acapela speech synthesis, speech empowers any PC with pleasant voices, transforming any written text into speech, in real time.
NEW BENEFITS!
Windows 8 support
Improved intelligibility at high reading speed using the new "small and fast" Colibri voices, based on a brand new technology developed by Acapela Group.
Possibility to modify pitch with the new Colibri voices.
On/off switch for verbose mode that expands acronyms, abbreviations and datum.
 Add and remove voices at any time and free of charge, using the new Download Manager application.
 Menu-based GUI for easier navigation using screen reader applications.
26 languages / 62 voices including  Australian English (voice Tyler) & Swedish dialects Scania (voice Mia) and Gothenburg (voice Kal).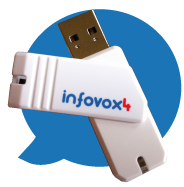 Includes both a portable USB solution and 3 local installations, which follow users as they work on different PCs.
Portable usage from USB allows immediate access to any computer, without need of installing locally or admin rights
Local installations will function even without a USB plugged into the computer
Possibility to transfer local installations to and from the USB at any time
The end user has access to all voices in all languages included in the license – with different genders and voice personas – so that user feels fully comfortable with the voices that become daily companions.
The choice between languages provides access to information in foreign languages as well as language learning. infovox4 is packaged with several useful applications, that can be easily launched from the infovox4 LaunchPad application.
The NVDA screen reader help the user accessing a computer when no other screen reader is pre-installed.
The Speech Creator enables easy creation of MP3 files for personal use, from any text file.
The Pronunciation Editor allows easy management of lexicons and exceptions, to fine tune and customize the way names and exceptions are pronounced.
The Download Manager allows to add and remove voices locally.
The Voice Manager allows to create new voices with particular settings. The Configuration Wizard will guide step by step through installation and configuration of infovox4 on the computer.
More product information here