Google Play: Personalize your android device with the voice you like.
Play with voices: a unique repertoire brought to you by Acapela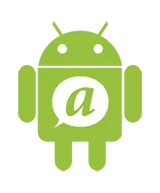 Your phone gets wallpapers, ringtones and widgets and plenty of apps and games that follow you around all the time. But what about a voice?
Now, you can download the Acapela TTS Voices app, listen to any of the 50 voices available in 26 languages and select one voice or more to turn your Android device into a smart talking companion – for only 3.99 euros/voice.
Acapela TTS Voices app offers 400 million Android users the opportunity to easily add a pleasant voice to speech empower their Google Play apps. Every day around one million new Android users can tune into the voice of their choice.  First feedback from beta testers confirmed that users really want and appreciate pleasant, clear and responsive natural voices.
Here are some comments we received
"I just installed the voices, and bought Rachel. I am loving this. The voices are so responsive, it is really good",
"Great app. Smoothest talk app I have ever heard",
"Good voices! It works perfectly on my HTC Hero. Very good voice quality! "
or "Working very well as Google navigation voice assistant. True Indian voice. "
Voices all simply here!
Arabic, Catalan, Chinese (Mandarin), Czech, Danish, Dutch (NL, Belgium), English (UK, US, India, Australia), Finnish, French (France, Canada), German, Greek, Italian, Japanese, Norwegian, Polish, Portuguese (Portugal, Brazil), Spanish (Spain, North America), Russian, Swedish and Turkish are already available with a resounding repertoire of 50 authentic voices, including Swedish dialects, local accents and even the voice of Queen Elizabeth.
They are all ready to vocalize the content of your android device into a natural and pleasant audio result, by turning written input into speech in real time.
Have a look at the talkative apps gallery and see at a glance where and how an Acapela voice can be a great talking partner to read aloud texts from your e-book or newspaper, navigate with Google Navigation or other GPS apps, hear real time translation, learn languages with audio feedback and much more!
Acapela voices are compatible with Android Accessibility features and screen readers (Google TalkBack, Code Factory Mobile Speak, Spiel …)
More information
For further information, click HERE   – For download, click HERE
Acapela TTS voices app has been designed for Android end users.
We invite developers to register on http://www.acapela-for-android.com  to try the evaluation SDK and easily add a vocal dimension, in many languages, to all their applications.
Acapela TTS voices are available on Google Play as in-app purchase at 3.99 euros per voice.