The latest version, Virtual Speaker 2.8, provides an enhanced, intuitive interface which allows you to seamlessly add tags and sounds, switch voices or languages and select the most suitable vocalization of a word with reference to the context, from a set of alternative pronunciations. Automatic insertion of control codes makes it easy to fine tune the text, and the syntax coloring feature makes these codes easy to spot when reviewing your work.
Sharon and Manon, Acapela's brand new US English and French voices, are included in the voices on offer.  Based on improved methods and optimized linguistic processes, they are part of a new wave of Acapela voices that are extremely pleasant to hear and even more natural, fluid and intelligible.
Virtual Speaker is used whenever voice files are needed – starting from 5 hours pack to intensive needs – providing a voice for eLearning, authoring, customer relation services, public announcements or brand management.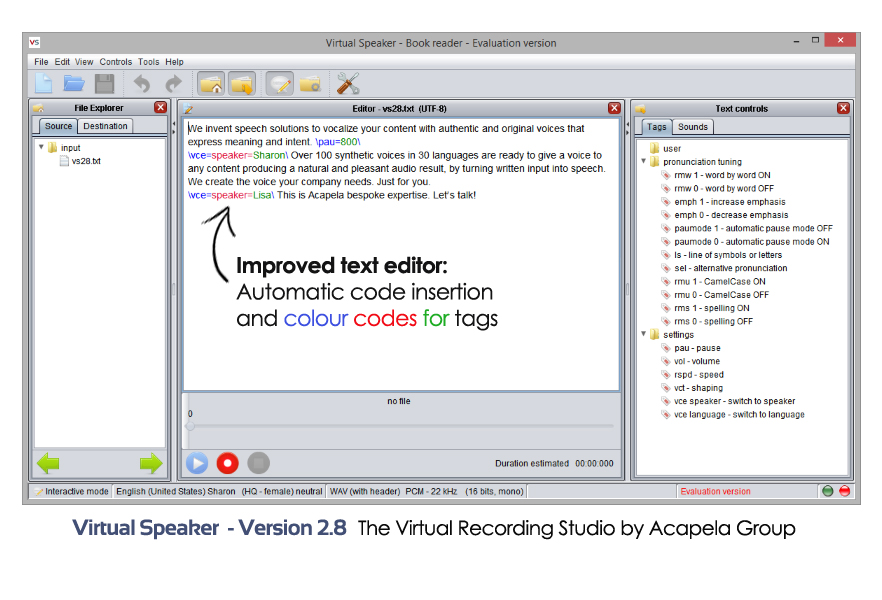 Whats new in 2.8?
Interface
The new Graphical Interface provides easier and quicker access to the most commonly used controls.
Editing
The text editor has been enriched with additional capabilities: undo/redo functions, search and
replace, different colors for tags, the possibility to change font size and highlight text currently being read.
Navigation
The contextual menu facilitates the most common functions related to words, such as connection to the Pronunciation Editor and the Pronunciation Change feature.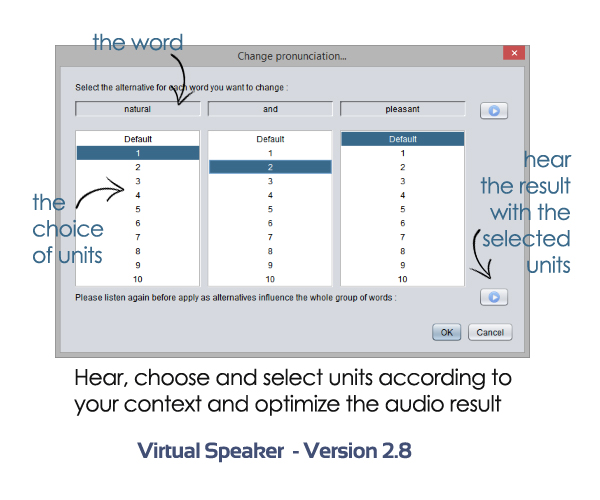 Fine tuning with advanced unit selection
The fine tuning process has been enhanced and now provides the possibility to select an alternative reading of the same portion of text, through a user friendly visual interface.
Easy Project Management
All your project settings are displayed in a single window.
Languages & Voices
All the languages available have been updated and now benefit from the latest advances from Acapela's constantly improving technology. Korean has been added as a new language and 19 new voices have joined the Virtual Speaker repertoire:
English (Australia): Liam (child male), Olivia (child female), Lisa (female)
English (UK): Harry (child male), Rosie (child female)
English (US): Sharon (female), Rod (male), Ella (child female), Josh (child male), Scott (teenage male)
English (US): Emilio (bilingual child male)
English (US): Valeria (bilingual child female)
French: Manon (female), Robot (robot male)
German: Jonas (child male), Lea (child female)
Korean: Minji (female)
Polish: Monika (female)
Spanish (US): Rodrigo (male), Emilio (bilingual child male), Valeria (bilingual child female)
For more information