Happy Birthday: Celebrating the 10th anniversary of our children's voices!
Voices for All! Back in 2012…10 years ago, Acapela Group was very proud to have unveiled to the world the very first synthetic, 100% genuine, child voices. Since that day, Acapela's digital voices made for children, by children, have changed the daily life of many young users around the world. Discover how.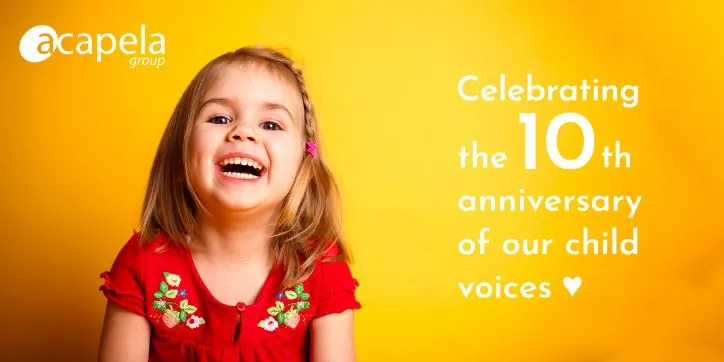 A world premiere
The demand was very high: about 2% of the children  aged between 3 and 12 years cannot rely on their natural speech to communicate. Young users were historically constrained to communicate with voices stemming from adult voices and this often gave a very poor or awkward sounding outcome, by all means not identifying them in a proper way.
Acapela's objective, together with our partner AssistiveWare, was to offer them voices that suit.
Our Acapela team had to rethink the process and legal set up that was fully mastered for the creation of adult voices and adapt it to child's habits and behavior. This also entailed the practical aspect of respecting child protection laws. The challenge was to cast, coach and record kids, to get the essence of their original tone and to capture all the specific vocal characteristics of a young voice and to implement it into a text-to-speech version.
The development of the children's voices required tremendous dedication and specialized work from our experts, our partners and experts among other actors (including families and users) , but it was definitely worth the effort. No artifices or effects required, resulting in spontaneous and authentic digital voices that kids have instantly adopted and used for the past 10 years.
Creating the first voices – Rosie and Harry- took more than 2,500 hours of research, recordings, processing and development. We made great strides working alongside our historical partner AssistiveWare. Check the behind the scene video.
Specific recordings of children's typical exclamations and sounds were also made to create an even more natural and spontaneous audio result.
"These new voices will further transform the lives of children who cannot speak and the lives of those around them,' said Anna Reeves, National AAC Coordinator for England in 2012. 'It may be the very first time that families hear their own children speak with a child's voice – you can't put a price on that."
A cheerful crew ready for young users
Then Rosie and Harry were happily joined by other voice talents: Merel, Thijs, Ella, Josh, Valeria, Emilio, Lizzie, Malik, Owen, Tiana, Scott, Liam, Olivia, Elise, Valentin, Jonas, Lea, Aurora, Alessio, Elias, Emilie, Filip, and Freja. The following languages are already available: Australian English, UK English, US English (including African American English children voices), bilingual US English/North American Spanish, French, German, Italian, Norwegian and Swedish. And the family keeps growing.
"We are very proud of our children's voice, initiated in partnership with AssistiveWare a decade ago. They help kids around the world to communicate with those around them, to play and learn. Children with speech disorders can finally express their thoughts, needs and desires like their friends, with a voice that matches their age. At Acapela, we are all very proud of this achievement" says Rémy Cadic, CEO of Acapela Group.
Listen to some voices of the cheerful crew
And the crew keeps growing!
New voices will join the family in 2023, including 2 Scottish voices (Scottish English) developed with Tobii Dynavox and 2 British voices with the Northern England accent, created with Crick Software. All these new voices will be released to the whole accessibility market, thanks to recent agreements with Tobii Dynavox and Crick Software. We thank them for this and have the strong commitment to help the accessibility market benefit from it.
"Acapela's children's voices empower children who use tablets, smartphones and smart toys, helping communication, interactivity and engagement. Beyond communication, it has a positive impact on their social and communication development – in more ways than we can imagine" adds Rémy Cadic.
As we keep expanding voices portfolio, Acapela Group is also working on the adaption of all the existing voices to the new machine learning methods based on artificial neural networks. Always seeking to offer the best natural synthetic voices with our offline and online products and services.
The collaboration between Acapela Group and AssistiveWare dates back to 2003 when AssistiveWare was the first company to build a Mac product using the natural-sounding Acapela voices. Both companies share a strong dedication to the assistive technology market and were natural partners to tackle the challenges of developing the first children's voices designed for young users who cannot speak.
More info about AssistiveWare