Covid-19 update message / Let's keep talking !
In light of the current COVID-19 situation, here is an update from Acapela Group.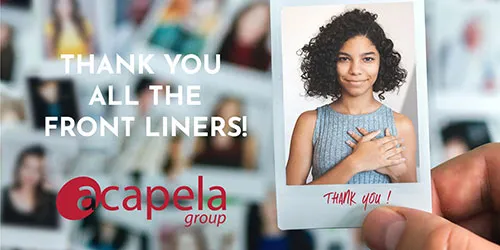 Dear customers and partners,
In light of the current COVID-19 situation that is affecting all of us around the world, I wanted to provide you an update on how we are addressing the situation at Acapela Group.
The pandemic is affecting all of our families, our businesses, our communities, and our way of life. Like you, we face the challenge of adapting to these new circumstances.
Today, the health and safety of our employees, families and communities are more than ever a priority for us.
All of our employees around the world are now working remotely. Acapela's teams are fully functioning safely from home and are by your side to help you face this unique situation. They stand ready, as always, to serve you and provide you the best services, customized voices and solutions you need.
Our infrastructure and all Acapela cloud instances are monitored in real time by our Cloud and Network teams. All the necessary measures are already in place in case of support or remote intervention request.
This shift has been relatively smooth and we look forward to deliver you the highest levels of support, availability and continuity.
Availability and Continuity
Don't hesitate to reach out to your main contact person at Acapela Group directly.
If you have any specific questions or concerns relating to this situation, please feel free to contact us at info@acapela-group.com , through our contact form  or via the social media.
We will ensure all messages are handled and forwarded to the person who can best respond to them. We are also happy to converse via Videoconferencing, Skype, Facetime, WhatsApp or any other digital media.
On behalf of the entire Acapela team, I want to thank you for putting your trust in us. You have our commitment to collaborate with you to overcome these challenging circumstances.
Despite these challenging and uncertain times, we are confident that, as a company and community, we will get through this together. As we go forward, we will keep you informed and answer your questions, ideas and feedback.
Yours sincerely,
Remy Cadic
Acapela Group CEO
#healthforall #stayathome