Acapela releases Acapela Cloud, its new online straight-talking solution.
Acapela Cloud online service allows to easily build speech enabled applications. It features an easy to integrate API, a web interface with advanced UX, new layouts as well as prompt editing capabilities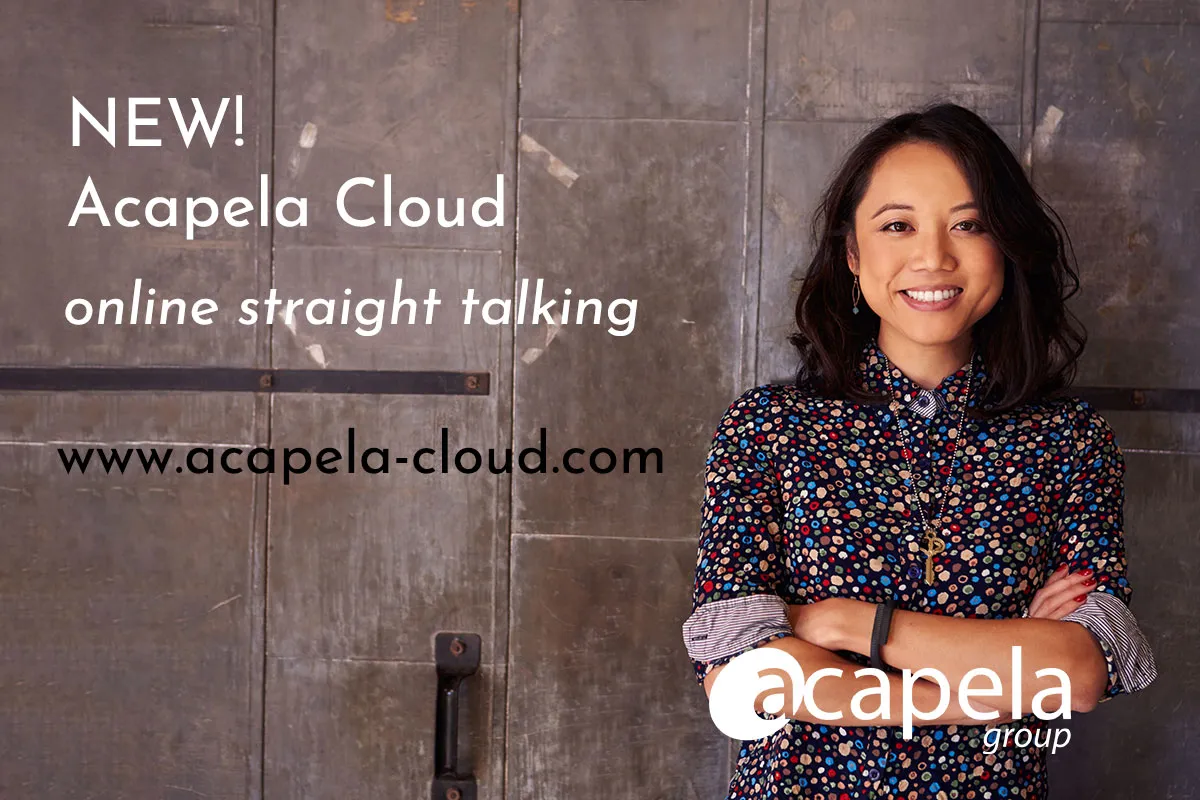 The service is fast and compliant with the latest W3C standards for enhanced security. Dedicated business model and prices were set up for the needs of our Cloud customers looking for 24/7 real time vocalization or the possibility to generate voice prompts with ease.
What for?
Acapela Cloud speech empowers any online application or device.
Cost effective and very easy to use, it gives all content a natural (digital) voice.
It enables applications and devices to speak and provides an immediate solution to answer all of your needs for Voice-first interface or audio interactivity, in a wide range of languages and voices.
Online service – Simple API
With only a few lines of code, the connection with the Acapela Cloud server will be activated. Ready to turn any written content sent, into voice.
Acapela Cloud will instantly generate the speech output that will be played on your applications or devices.
Digital voice talents
Over 30 languages and 100 standard voices are available, 24/7. Check out the list on Acapela's website.
Customizable voice parameters
Easily integrate speech synthesis capability into your application and control every aspect of the voice generation process using various features, parameters, settings and effects.
More information at www.acapela-cloud.com
About Acapela Group:
How does you voice sound? At Acapela Group, we create personalized digital voices that match your voice branding. Our  voices, based on NeuralTTS and AI, bring persona to the user experience.
Acapela is the European leader of voice solutions with thirty years of expertise and market feedback, strong partnerships, deep rooted R&D, an enthusiastic team and a strong appetite for innovation.  Your voice matters. And Acapela cares about it.  The company aims to create voices that sound different: custom voices, children voices, voice banking with my-own-voice. Voices adapted to the needs and context of application, based on promising results on NeuralTTS. https://www.acapela-group.com/