Make the most of digital voices online : check the new Acapela Cloud service.
Acapela Cloud online service allows you to turn your written content into natural voices. The service, upgraded with a new UX and graphic layout for an enhanced experience is being  unveiled at Viva Technology. Check it out!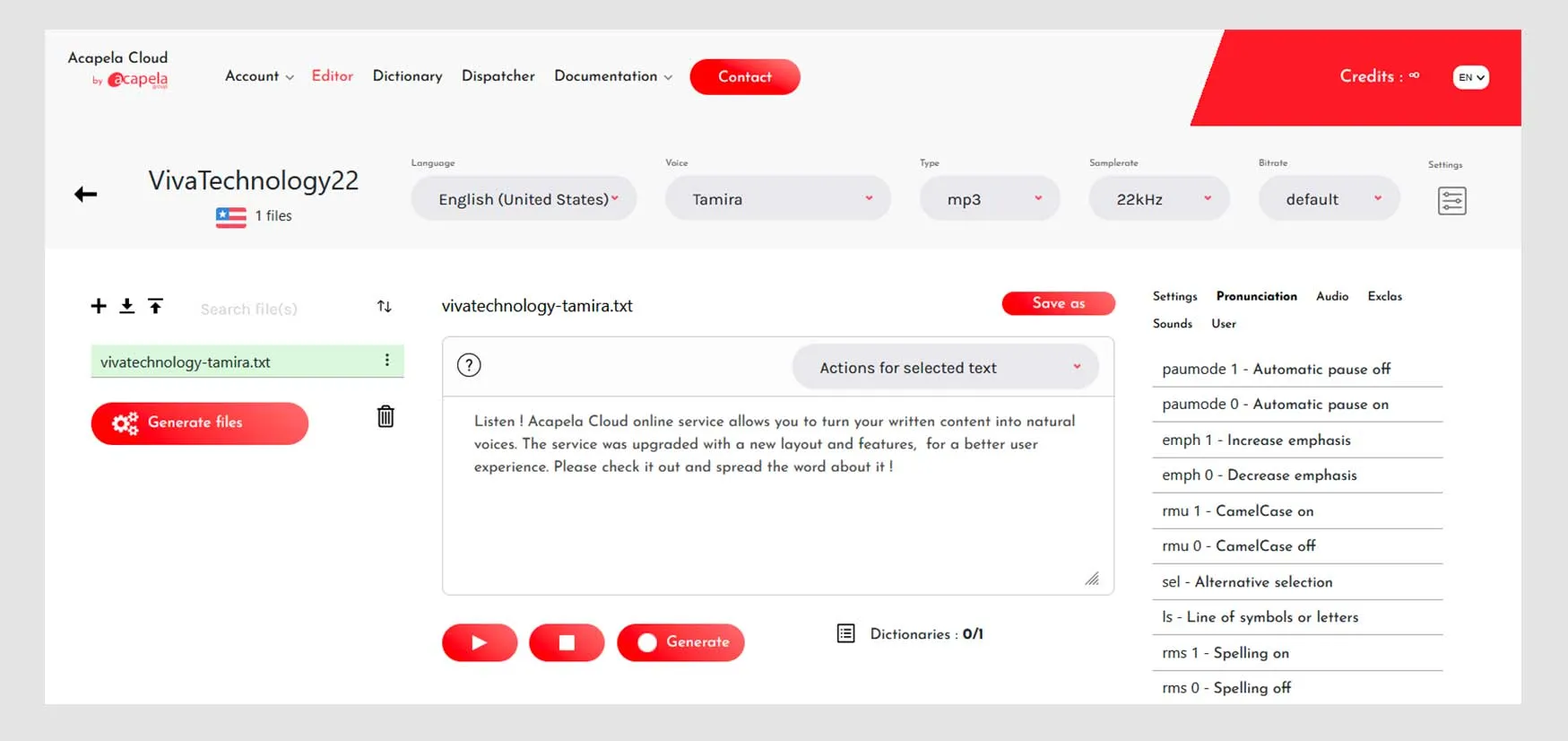 Acapela's flagship online service also provides exclusive access to the full portfolio of Acapela's voices, including the neural ones, based on machine learning and latest AI techniques.
>> LISTEN TO THE VOCALIZATION OF THE TEXT WITH ACAPELA CLOUD
Thanks to various settings like speed adjustment or pause insertion, you can control every aspect of the voice generation process. You can easily enrich the audio output with additional features such as pronunciation, audio effects, exclas or sounds, to breathe more life into your audio content.
The online straight-talking solution is available as an API, to easily build speech enabled applications, or as an online service, to generate audio files with speech synthesis in just a few clicks.
The new version offers an intuitive design for an optimized experience.  It features a dashboard with key account info such as available credits.  Prompt and dictionary editing capabilities were improved and new features ease the workflow and the management of large amounts of voice files through a project approach.
The service is fast and compliant with the latest W3C standards for enhanced security.
Dedicated business model and prices were set up for the needs of our cloud customers looking for 24/7 real time vocalization or the possibility to generate voice prompts with ease.
For more information  meet us @Viva Technology in Paris or online or connect to www.acapela-cloud.com